2 Healthy Dinner Recipes | Easy Prep Meals For Dinner
We know the health is wealth, healthy dinner recipes are the meals we eat at night. People all want a healthy diet which gives protein minerals to their body. We know we should eat healthy. We want what is best for our family. So why don't we eat the way we are supposed to eat? Let's take a look at some of the reasons why we tend to make unhealthy choices along with some helpful suggestions for healthy dinner recipes.
RELATED ARTICLE: Fast Fat Burning Meals CookBook Review™ Click Here To Order Now
No Time to Make and Eat a Healthy Dinner
In today's society, we are always on the go – working, running errands, driving our children to and from school and extracurricular activities; the list is endless. Grocery stores are turning into food malls. With all the aisles and selections to navigate, we may feel we don't have time to go grocery shopping. Because most people only have a few minutes to get dinner, they usually choose fast food, which is a convenient, albeit unhealthy choice. As a nation, the U.S. is getting fatter and unhealthier. What we need to combat this dilemma are healthy dinner recipe choices that can be prepared fast.
How to Pick a Healthy Dinner Recipe
Use recipes that contain low-fat ingredients like fresh vegetables, fruits, lean meat, whole grains and skim milk.

Choose the freshest ingredients possible.

Organic foods are grown without the use of pesticides and hormones and are the best food for your body.
Healthy recipe for dinner
Here tell you about some healthy dinner recipes;This is the best diet for dinner and also healthy its especially better for women it contains low fats and helps in losing weight.
Mushroom and Black Bean Smothered Burritos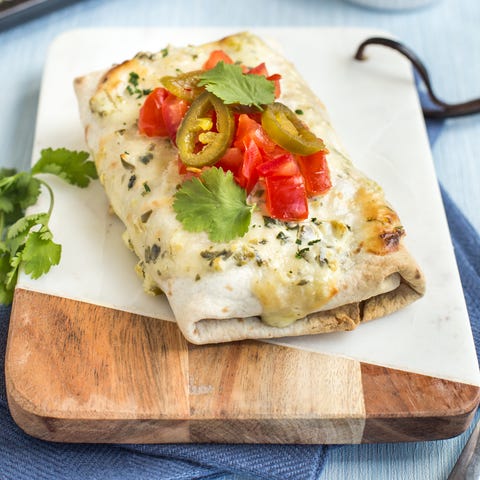 Ingredients:
100 g (~ 1/3 cup) white rice
1 Tbsp oil
1 medium onion, sliced or diced
8 medium mushrooms, sliced or diced
2 cloves garlic, minced
2 tsp smoked paprika
1 tsp ground cumin
1 Tbsp a tomato puree / paste
145 g (~ 2/3 cup) cooked black beans (~ 3/4 of a standard tin
Salt
Black pepper
4 large flour tortillas
150 g cheddar cheese, grated (~ 1 1/2 cups when grated)
1 Tbsp pickled jalapeños (I used green), finely chopped
1 Tbsp coriander (cilantro), finely chopped
3 Tbsp sour cream
Toppings, to serve (optional): diced tomatoes, diced red onion, black olives, fresh coriander, jalapeños, diced avocado, etc.
Directions:
Boil the rice in plenty of water until just cooked, then drain.

Meanwhile, heat a dash of oil in a large frying pan, and add the onion and mushrooms. Cook for a few minutes over a medium heat until slightly softened, then add the garlic, smoked paprika, cumin and tomato puree. Cook for a few more minutes, stirring regularly.

Add the black beans and the cooked rice, and season generously. Mix well to combine.

Take one of the large flour tortillas, and add about 1/4 of the rice mixture to the center. Top with 1/4 of the grated cheese. Fold two sides of the tortilla inwards, then rotate through 90° and fold in the other two sides to fully wrap the burrito.

Repeat with the remaining tortillas, rice, and cheese, and place the burritos seam-side down on a baking tray.

In a small bowl, combine the finely chopped jalapenos, coriander, and sour cream. Season with a pinch of salt and pepper, and mix well.

Divide the sour cream sauce over the 4 burritos, and spread it around a little. Bake at 375 degrees F for around 15-20 minutes, or until crisped up to your liking. Serve with your choice of toppings.

It contains Per serving: 486 calories, 22 g fat (10.7 g sat), 18.7 g protein, 53 g cab, 665 mg sodium, 3 g sugars, 5.4 g fiber.
Coconut-Lime Marinated Shrimp + Oodles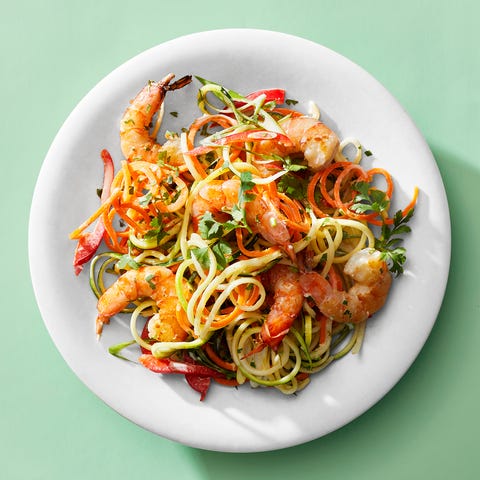 Ingredients:
3 limes

3/4 cup light coconut milk

1 tsp low-sodium soy sauce

2 cloves garlic

1 1-inch piece fresh ginger

1 red chili

1 1/2 cup fresh cilantro

2 scallions, thinly sliced, white and green parts separated

1 large, thick carrot

2 medium zucchinis

1 red pepper, thinly sliced

1 lb. cooked, peeled, deveined shrimp
Directions:
Finely grate zest of one lime into a large bowl, then squeeze in juice of all limes (should yield about 1/4 cup). Whisk in coconut milk and soy sauce. Finely grate in garlic, ginger, and 1/2 red chili. Finely chop 1/2 cup cilantro and stir into the bowl along with scallion whites. Thinly slice a rest of chili and set aside.

Using a spiralizer fitted with the finest noodle blade, spiralize carrot, then use a larger blade to spiralize zucchini. Toss oodles in coconut milk mixture; let sit for 10 minutes.

After 10 minutes, fold in red pepper, shrimp, and remaining cilantro. Sprinkle with remaining scallions and sliced Chile.

Per serving: 225 calories, 5.5 g fat (2.5 g sat), 32 g protein, 415 mg sodium, 14 g cab, 7 g sugars, 3 g fiber
RELATED ARTICLE: Fast Fat Burning Meals CookBook Review™ Click Here To Order Now